The focus of this release is to add support for creating and managing a Google Smart Shopping Campaign. As such, this release introduces some important new features:
Linking a Google Ads account to FeedOps.
Creating and publishing a Smart Shopping Campaign to Google Ads.
Notifications, recommendations and reports for managing a Smart Shopping Campaign.
Linking a Google Ads Account
You can now link an existing Google Ads account to FeedOps. This Google Ads account will be linked automatically to the Google Merchant Center configured for the website, and will then be used for publishing Smart Shopping campaigns.
To link, simply log in using the Google account you use to manage your Google Ads, then select the right account from a dropdown list.
Creating and publishing a Smart Shopping Campaign
Once your Google Ads account is linked, you will be prompted to enter an initial budget for your Smart Shopping campaign. You can then click the button to publish campaigns. This will create and publish a Smart Shopping campaign into your linked Google Ads account. The campaign will be configured to advertise all products listed in your Google Merchant Center feed.
Once published, FeedOps provides additional guidance around what you need to do in Google Ads in order to get your campaign operating smoothly.
Managing a Smart Shopping Campaign
Getting your campaign running is just the beginning. Once it is enabled, FeedOps will show you how your campaign is performing.

By clicking "Open Report and Manage" you can view a more detailed report that will allow you to adjust the reporting period and see how you are tracking compared to the budget you assigned in Google Ads, as well as how your performance compares to any ROAS target you might have configured in Google Ads.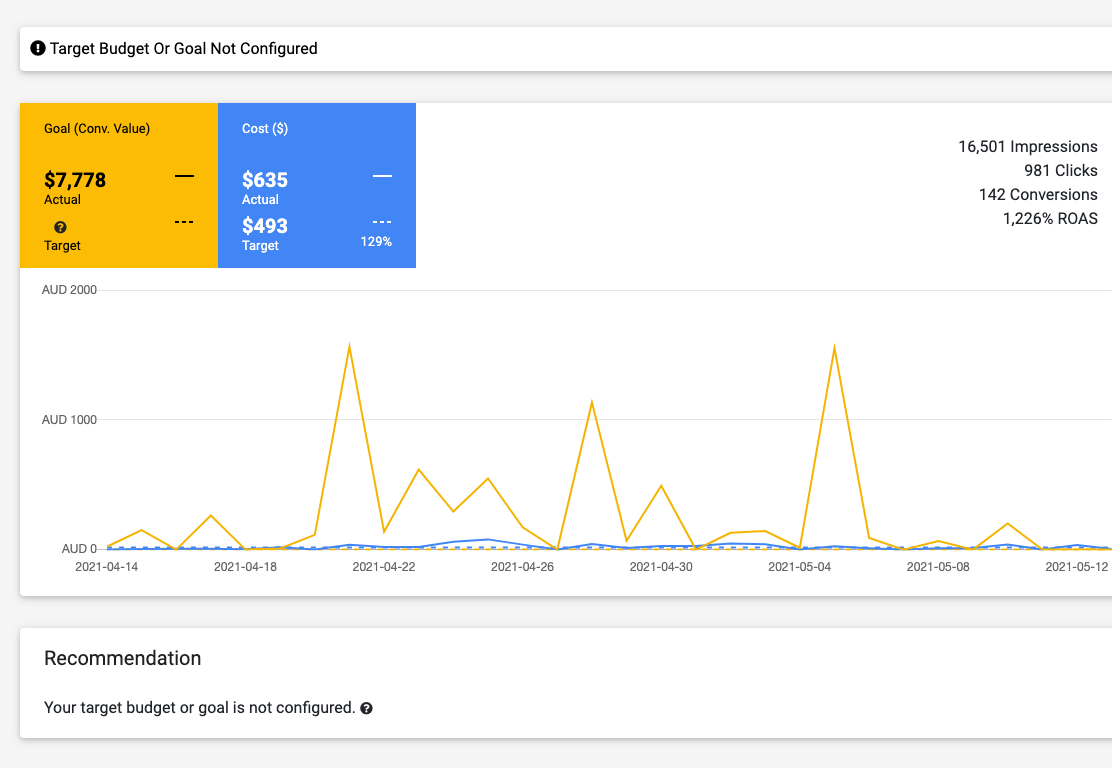 If you configure a ROAS goal in Google Ads, FeedOps will provide you recommendations on what you can do to achieve your goal. These can be viewed in the interface, however you can also subscribe to receive weekly notifications by selecting the "Notification Settings" entry on the menu on the left.
App URL
Please note that, as of this release, the URL for FeedOps has changed from https://app.dynamiccreative.com/platform to be https://app.dynamiccreative.com/feed_ops.