Our team use the FeedOps software on your behalf to manage your Google Shopping ads and Google Merchant Center.
Google Shopping Ads Service
You tell us how much you want to spend on Google per month and your goal. We will manage your bid strategies and budget.
Google Merchant Center Service
We manage all of your Google Merchant Center disapprovals. You can ask us to exclude some products or entire product categories from this advertising service by emailing us.
Getting started
Sign up to FeedOps
Choose Google Shopping Ads Service
Tell us about your advertising goals.

If you are new to advertising in Google, you will probably want to start at "First sales".
More advanced advertisers might choose "Increase ROAS" (Return on Ad Spend).

We prepare a written quote which will contain a 14 day free trial and an unconditional 90 money back guarantee.
Onboarding
When you accept the quote we will commence the onboarding stage. During onboarding, we will:
connect your existing Google Merchant Center or create a new one for you.
connect your existing Google Ads account or create a new one.
create your Google shopping feed.
set up Google Free Listings.
enable Google Dynamic Remarketing.
publish a Google Smart Shopping campaign.
We will then contact you to confirm your budget and goal and turn your ads on.
This can be via either a video meeting or email.
Your 14 day free trial begins once onboarding is complete and your ads are on.
90 Day Money Back Guarantee
If you are unhappy with this service for any reason in the first 90 days, you can stop using the service and we will refund all the fees you have paid us. Please note that we do not refund any money that you pay to Google, just the fee that you pay us.
Ongoing Service
The FeedOps Google Shopping Ads Service is broken down into two main parts: proactive servicing done each month; and reactive servicing that happens in response to certain events.
Proactive Services
Each month we will:
Review product disapprovals in Google Merchant Center and remediate or report to you for remediation
Check your conversion and dynamic remarketing tagging and report any problems
Check and update your title optimization settings to match the way people are searching
Review and report your campaign performance.
Reactive Services
Additional service may be provided in response to certain events, including (but not limited to):
Significant decreases in the number of active items
Google Merchant Center account suspensions and warnings
Changes in Google policies
Customer requests
Depending on the issue we will typically either resolve directly or provide professional advice on how the issue can be resolved.You can contact us at any time in the app or by emailing us. We will respond within 2 business days.
FeedOps Dashboard
You will have access to the FeedOps Cost and Goal Dashboard. You can login at any time to see how your ads are performing.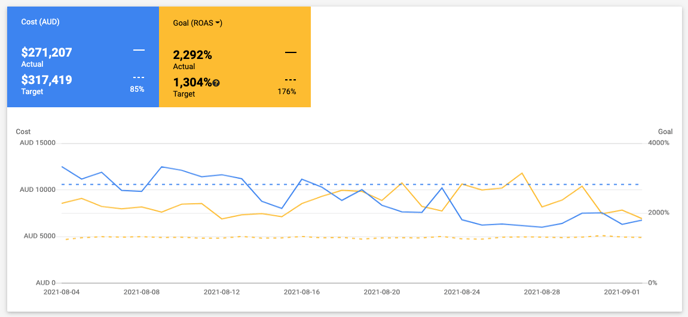 Your Google accounts
You will retain full access and full control of your Google accounts, including any accounts that we set up for you.
Optimize Your Product Data
We use the FeedOps tools to optimize your product data to match the way people search and browse the web. This includes modifying product titles to include common search terms. The aim of this is to get more traffic to your products.
Managing Merchant Center Errors
From time to time Google updates their policies for product data. We will do our best to resolve any issues that are stopping your products from showing in Google. We will monitor Merchant Center errors and warnings and resolve as many issues as we can.
Some Google Merchant Center errors, warnings or policy violations may need to be resolved by the merchant (you). We will let you know when we find an issue that you need to fix and do our best to assist you.